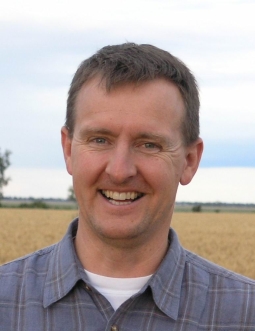 Tom Wolf grew up on a grain farm in southern Manitoba and has spent his whole life farming or working for farmers. He obtained his BSA (1987) and M.Sc. (1991, Plant Science) at the U of M, and his Ph.D. (1996, Agronomy) at the Ohio State University, where he specialized in spray application technology. He is a professional agrologist, a member of the American Society of Agricultural and Biological Engineers and a member and past president of the Canadian Weed Science Society.
Tom's expertise is spray drift, pesticide efficacy, and sprayer tank cleanout, and he has published and spoken extensively on national and international stages on these topics.
Brian Caldwell grew up on a farm in southwestern Manitoba and maintains strong ties to the farming community. After obtaining a Laboratory Technology Diploma from SIAST in Saskatoon, Brian spent his career at Ag Canada in Regina and Saskatoon, primarily in pesticide application with Tom Wolf.
For the past 25 years, Brian conducted research in spray drift, pesticide efficacy, canopy penetration, operator exposure, and sprayer tank cleanout. Brian now owns Agrimetrix Research & Training with Tom Wolf in Saskatoon. Together, they collaborate widely with universities and industry, and their research results are often quoted within the Canadian crop protection industry.